Are you looking for some miracle like hair ampules or some other advanced keratin hair treatment that will help you improve the strands? Sometimes a good hair mask is all you need. Just take a look at Nanoil Keratin Hair Mask because it can be your next hair care product that will let you enjoy professional effects at home. With this hair mask you will forget about damaged and weak strands. Just apply it once to see a huge difference in the way your hair looks. Obviously, this hair mask can do more than just repair damaged hair. Keep reading to find out how to clean up the mess that heat styling made on your head.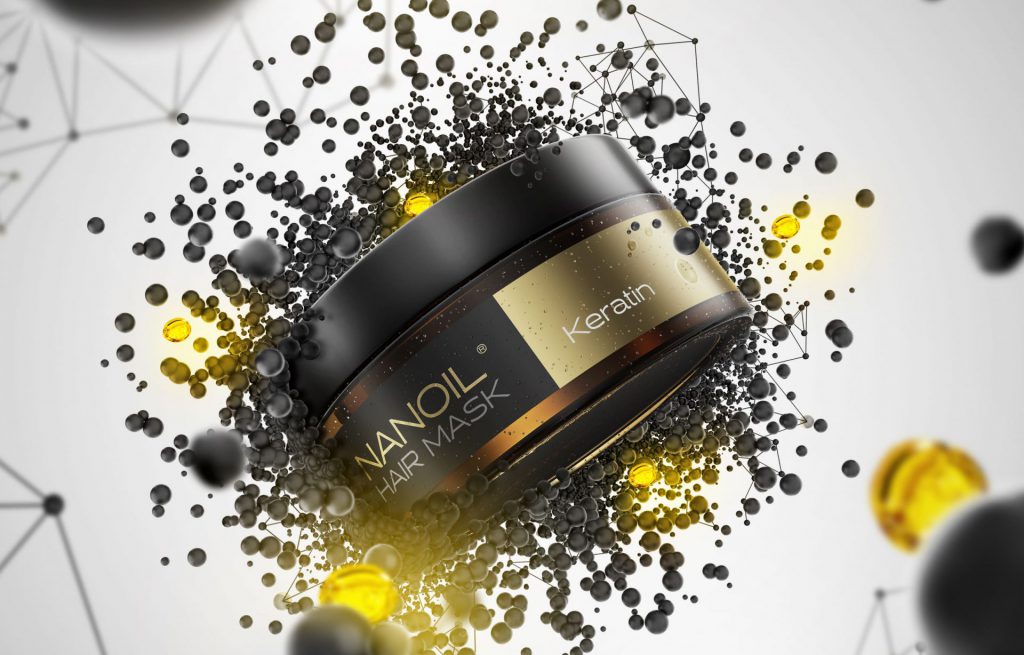 Even healthy tresses have the bad hair day
You probably know it too well that even the most beautiful hair sometime needs some support. The sad truth is that nowadays there are many factors that negatively affect our tresses. More worryingly, we can't control them. What ruins our hair? For example, unfavorable weather conditions, urban pollution, stress and hormonal changes. Naturally, we shouldn't forget about the obvious causes of hair damage such as frequent exposition to heat styling tools or dyeing. Treating the strands badly fast-tracks your way to get it damaged and brittle. Soon it will get unmanageable.
Keratin hair mask instead of costly hair treatments
Believe it or not but your hair can look better. And the best thing about that is that you don't need any expensive ampules or complex in-salon treatments that you don't even have time to make use of. We guarantee that you will always find time to treat your hair with Keratin hair mask by Nanoil. Why are we so sure? The mask needs to sit on your hair just for 10 minutes. This short while with the hair mask on gives you healthy and shiny strands.
Why makes using Nanoil Keratin Hair Mask a good idea?
It can't be denied, this hair mask is made up of exceptional ingredients. It brims with high quality keratin that is a master of effective and deep hair regeneration. This protein improves hair and boosts natural shine – already after first use. Nanoil Keratin Hair Mask is able to improve the appearance of the hair and show you that you too can have fabulous, strong and perfect hair. Try out the power of keratin at your home. This is the effect you have been waiting for, and it's on your doorstep!
How does Nanoil Keratin Hair Mask work?
KERATIN – it's one of the most essential proteins that hair needs to remain healthy and good-looking. It's a natural building block of hair that prevents damage and makes hair stronger. It's worth realizing that many hairdresser salons offer various keratin treatments aiming at repairing damaged hair.
PANTHENOL – there is no other similar substance that would leave hair so shiny as panthenol does. Additionally, this substance is responsible for locking moisture in hair and improving hair resilience. Panthenol and keratin make a perfect duo to keep your hair gorgeous.
Nanoil Keratin Hair Mask reviews
Nanoil hair mask with keratin is one of the top-ranked hair care products. Quick and perfect effects – this is what you can expect from keratin. Nanoil allows you to achieve in-salon effects without spending much. Over 90% of women claim that they would not only recommend Nanoil Keratin Hair Mask to their friends but also repurchase it.
Nanoil Keratin Hair Mask satisfies your hair needs
Get yourself stunning and luminous hair! Nanoil hair mask with keratin is a simple way to enjoy gorgeous and healthy hair. Don't waste more time and expose your strands to a 10-minute treatment that will leave it nourished and beautiful. Not without a reason hairdressers suggest implementing Nanoil Keratin Hair Mask to daily hair routine.
Learn how to take care of hair professionally at home. Enter www.nanoil.us