The hottest trends in makeup? The 2020-2021 season is officially on! Find out how to apply makeup to look good in this autumn-winter season. Learn the tips of the top makeup artists and stylists. You bet, it will be beautiful!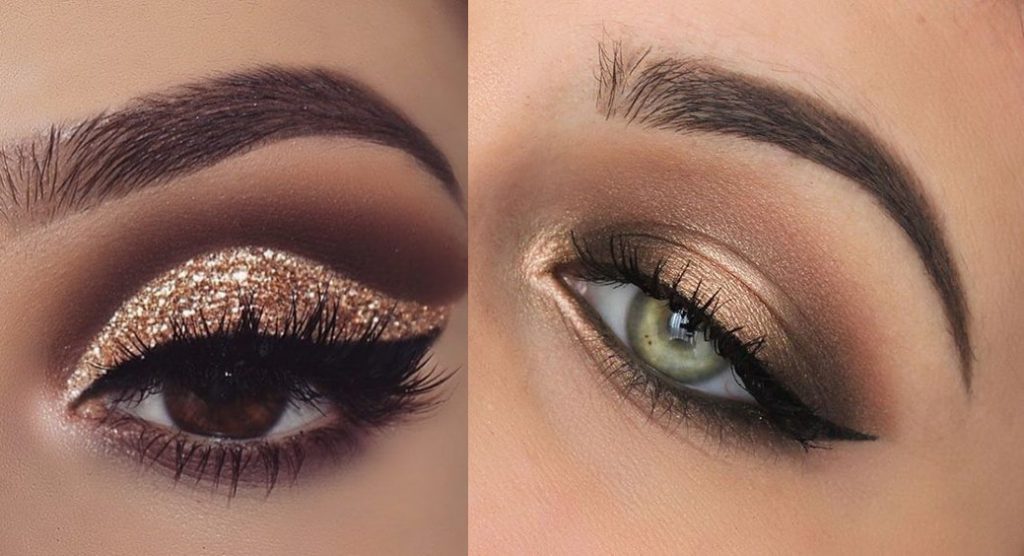 1. Outer wing and smudged eyeliner
Outer wing is a name of an eye makeup technique that focuses only on the outer corner of the eye. Is it easy? Is it quick? Sure, it is! Most of us like simple solutions, especially if they give us stunning effects. Want to hear even better news? In the 2020-2021 season, the eyeliner can be applied a bit … clumsily. Yes, you got it right. If you want to be trendy this season, try using eyeliner as if you were in a hurry and didn't have the time to draw the line carefully. Isn't it a perfect makeup idea for those who don't use eyeliners on a daily basis? Finally, you don't have to be super precise while doing eye makeup! The funny thing is that the less perfect your outer wing is, the more trendy your look is! Okay, you know how to use the eyeliner this season, so now let's focus on the color. Nothing surprising here, classic black is always on top, but if you want to get a little bit more crazy, try some deep blue shade – it should work just perfectly!
2. You're a golden girl! Golden eye effect
No more this tedious and complicated eye shadow blending! Makeup trends for 2020-2021 are super easy for everyone, even for those who aren't very skillful at applying color cosmetics. Indeed, you don't have to be a professional makeup artist to create stunning results and look wonderful. This season – just like the last one – you should try using eye shadows in moderation. Therefore, skip blending them. This minimalist approach – very characteristic for the 2020-2021 season – found its place in eye makeup as well. So instead of combining a few shades on your eyelids, use just one color and apply it only to the mobile eyelid using any technique you like. Go for loose, baked, pencil or liquid shadows. The tool doesn't matter. What matters though is the final effect that you create.
What about the colors? Well, here you should follow strict rules and use either blue shades, or try this season's hit, that is Golden Glam – eye full of gold. It appears that you need no more but just one well-pigmented gold eyeshadow. The best bit is that this effect is perfect for daily makeup, for a date, to work and for a night-out with friends. For a long-wearing Golden Glam effect, try using either an eye shadow stick or cream eye shadow.
3. Radiant and glowing skin – this is the real hit!
The trend for looking healthy and having radiant skin is evergreen. Women tend to approach the issue of skin care more consciously nowadays, and now instead of covering blemishes with makeup, they focus more on choosing the best skin treatments. Today, using high quality skin care products seem to be even more important than spending a small fortune on a foundation. While talking about the foundation, this season better go for the product that offers you two things. Firstly, it has to protect your skin from the sun (i.e. SPF) and secondly, it has to be enriched with nourishing substances. Natural BB and CC creams as well as bio and vege makeup products are now taking the market by storm.
Choose the products that contain vitamins and nutrients. Your skin must be moisturized and conditioned if you want to enjoy flawless complexion. Once you get rid of imperfections, you should forget high-coverage foundations and concealers. Also, makeup has to be light and this effect can be easily achieved with a loose mineral powder. Apply it to your face using a kabuki brush.
4. Dark colors on your nails
Together with the first days of autumn, we put away light and bright summer colors. Winter and autumn is time for dark colors! We're sure you have at least one nail polish in your collection that would fit the 2020-2021 season perfectly. Find a black, burgund or deep purple nail polish. However, if you like light colors, don't worry because there are some less saturated shades that you can apply to your nails and still look trendy. Try mixing coral colors with gold. You can also try painting one half of your nail plate with a color polish and covering the remaining part with a colorless nail polish.