Malta is a breathtaking place that is famous for its honey production. The world's sweetest honey exhibits several hydrating, nourishing, and soothing qualities. It's antibacterial and anti-inflammatory and it reduces skin lesions.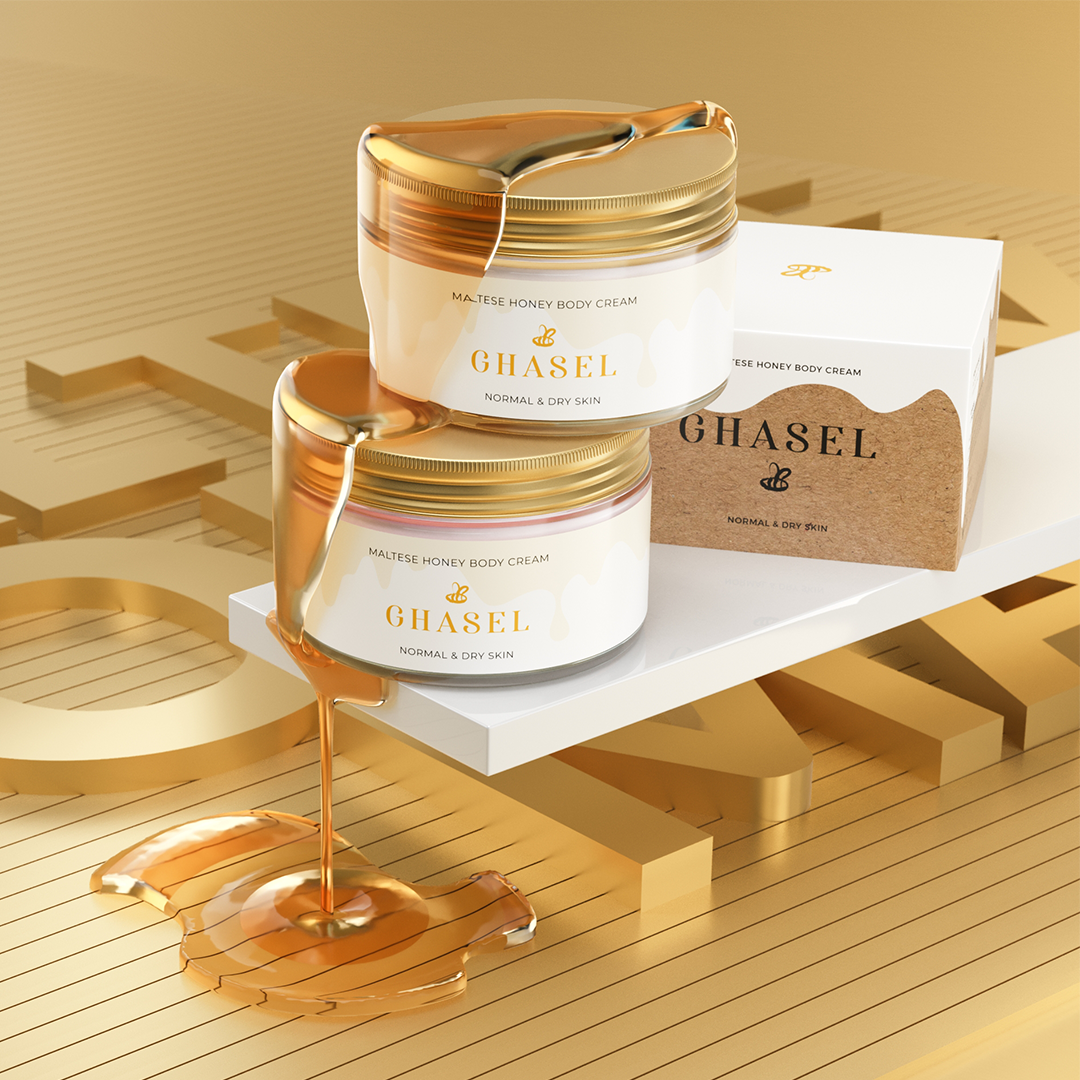 GHASEL Maltese Honey Body Cream
Have you got dry, irritated skin? Is it tired, covered in cellulite, and stretch marks? Would you like to restore its former energy and glow? Maltese Honey Body Cream will change your life!
It's a versatile product that takes excellent care of every skin type. It adapts quickly to the skin's needs and provides 24 hours of hydration. Because it's combined with other active substances it will nourish and protect your skin against adverse external factors.

Go for Maltese Honey Body Cream from GHASEL
A unique GHASEL cream is composed of many vitamins and bioelements that are essential in the process of regenerating skin cells. The delicate honey scent gives maximum comfort of use and relaxes the body. When applied every day, the body gains a proper level of protection against free radicals, UV radiation, smog, or toxins.
The spectacular composition of the cream is composed mainly of:
Maltese honey ➜ the world's sweetest honey that consists of 85-90% of thyme pollen, which makes it a perfect ingredient that works well with skin problems and imperfections. Its anti-inflammatory and antibacterial properties are valued around the globe, because it's a powerful antioxidant that combats free radicals, smooths out wrinkles and furrows, and strengthens blood vessels.
Shea butter ➜ a lubricant that keeps moisture inside of the epidermis and doesn't prevent water loss. It contains plenty of vitamins and minerals, which accelerate the regeneration of the body. It also stimulates collagen and elastin production, responsible for young appearance. What's more, it reduces signs of aging and blemishes, so you can gain a beautiful, youthful glow.
Avocado oil ➜ it's a cosmetic star, whose new valuable properties are discovered every week. It's considered the healthiest oil as it contains so many substances important for your beauty. They include B group vitamins, vitamins A, C, E, biotin, phytosterols, folic acid, saturated fats, and squalene. Avocado oil is rich in minerals that are commonly used in many skin care products. It works wonders, giving the skin hydration, and nourishment and accelerating its regeneration.
Marshmallow plant extract ➜ protects the skin against adverse environmental factors, supports its regeneration, and soothes irritation. Moreover, it has an anti-inflammatory and anti-aging effects. The marshmallow plant also softens and hydrates the skin, smooths out minor wrinkles and furrows, calms down on the itching, and accelerates wound healing.
Horse chestnut extract ➜ it oxygenates the skin and effectively combats free radicals. It also supports the regeneration processes, soothes irritation and skin lesions, improves blood flow, eliminates cellulite and stretch marks, and gives a real energy boost.
Maltese Honey Body Cream offers long-lasting hydration and a youthful glow. Massage it into your skin every day and night, and your skin will become naturally soft and smooth! Find more information at ghasel.mt