One of the easiest ways to tame hair quickly in the morning is by straightening strand by strand with a flat iron. The effect of smooth and shiny hair makes you look well-groomed. Naturally, if you do this rarely, from time to time, the hair shouldn't suffer much, but if exposed to high temperatures on a daily basis, then it will turn brittle pretty fast. To steer clear of the negative effect of hot styling, make sure that you have a bottle of a heat protection spray at home, and use it prior to reaching for a flat iron – this will keep your hair from frying.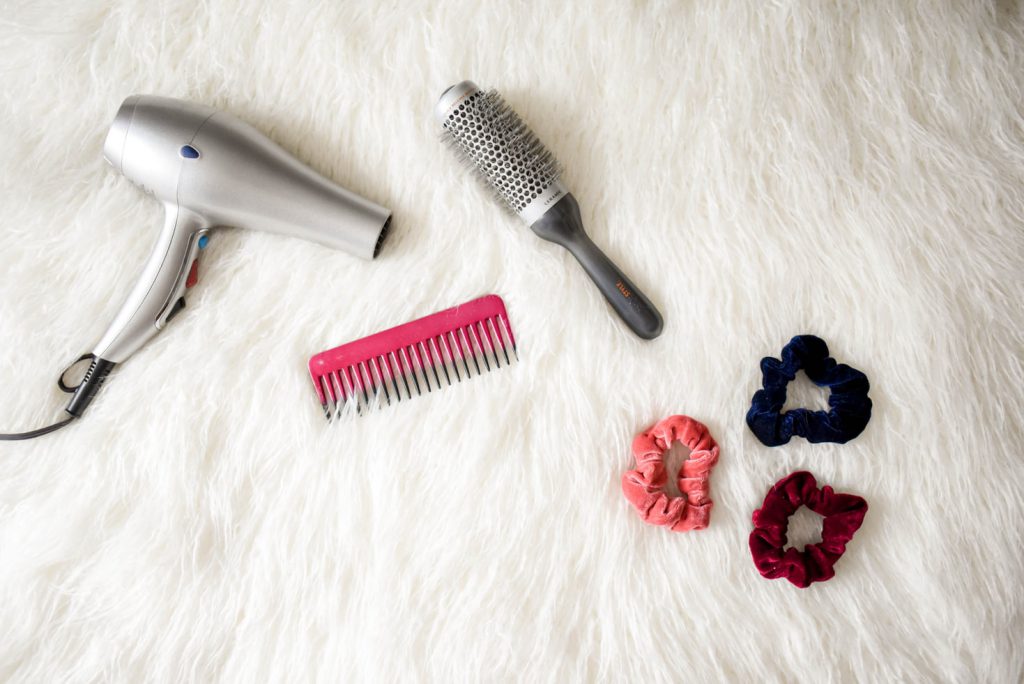 We are sure you must have heard about heat protection sprays before. Perhaps you've already tried some of them but doubted they actually did something. Your hair still felt like straw, was dull and brittle, so you gave up completely on using heat protection. Does it sound familiar? Well, we know five products that deliver promised results, nourish the hair and, most of all, help you enjoy beautiful-looking tresses no matter how often exposed to heat styling.
BEST HEAT PROTECTION SPRAY RANKING
A top-quality heat protection spray? How will you know that the product you're looking at is efficacious? Our advice is to go for versatile cosmetics that handle a few tasks at once. Below you will find reviews of five top-rated heat protection sprays that shield the hair against high temps, boost shine and leave your mane better-looking.
1. NANOIL HEAT PROTECTANT SPRAY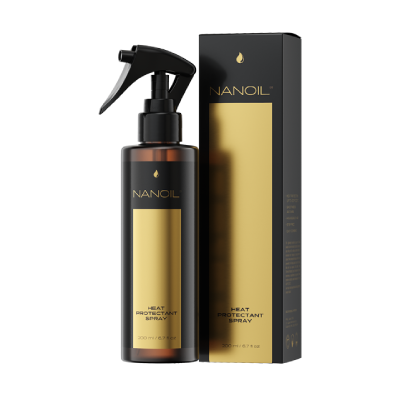 Used by professionals and regular customers at home, Nanoil Heat Protectant Spray is designed to serve all textures and all types of hair. Despite being lightweight, Nanoil spray robustly defends against high temperatures reaching even 440°F (220°C) and protects in all weather conditions. Shortly after spraying the strands with this product, they turn soft, smooth, easily manageable. This effect is owed to silk proteins that also deal with frizz and static. 
Covered with a protective barrier, hair is also resistant to mechanical damage. The same coating traps moisture inside for healthier-looking and elastic hair. Thanks to Nanoil Heat Protectant Spray you don't worry that you will end up with straw-like hair, so go ahead and use a hair dryer, curling iron or straightener whenever you want to.
2. ELSEVE DREAM LENGTHS HEAT SLAYER PRE-IRON SPRAY LEAVE-IN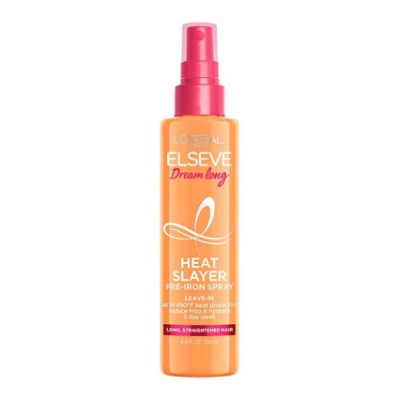 This widely-recognizable brand is known for offering low-priced hair care products in almost every corner shop. Marketed for long and frazzled hair, this heat protectant from Elseve collection promises to keep your style in place even for three days. But what is even more amazing is the fact that this vitamin-rich product offers protection against high temperatures and mechanical damage.
The lightweight formula enriched with castor oil is designed to smooth the strands out and keep them this way for a long time. This in turn results in frizz control and protection against splitting. With Heat Slayer Pre-Iron Spray Leave-In your strands will become soft, pleasant to the touch and easily manageable. No tangles are expected to ruin your style.
3. SCHWARZKOPF OSIS+ FLATLINER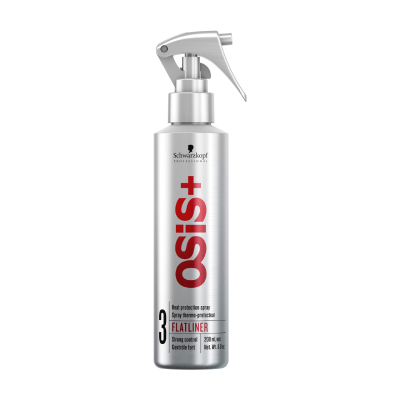 The miraculous spray serum significantly increases hair manageability, at the same time protecting the hair against high temperatures. Osis+ Flatliner copes even with the most unruly strands, helping you take control over your own hair. Even though Osis+ series is designed primarily for hairdresser's salons, you can use the products at home to protect the hair from extreme temperatures.
Enriched with polymers, Flatliner spray gives you long-lasting results so you can enjoy a perfect-looking hairstyle for a long time. When used long-term, this product may even help you increase hydration levels in your hair, thus reducing the problem of brittleness and splitting. Although some find the price quite high, Schwarzkopf heat protectant is definitely worth investing in.
4. KERASTASE CHRONOLOGISTE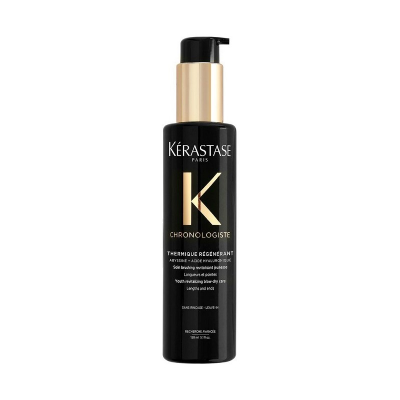 If you're looking for something thicker, you may like Kerastase heat protection cream that aims at improving the outermost layer of the hair. Hyaluronic acid, vitamin E and Abyssine extract are teamed together to shield the strands against high temperatures, deliver nutrients and moisture. After single use hair becomes visibly smoother, pleasant to the touch and even resistant to mechanical damage.
Chronologiste prevents a hairstyle from falling apart in all weather conditions. Another positive feature to mention is that the product combats frizz and static, which is good news for those whose strands are easily messed up by high air humidity. Although Kerastase Chronologiste isn't a budget-friendly heat protectant, the effects it produces are spectacular.
5. KEVIN MURPHY EVER SMOOTH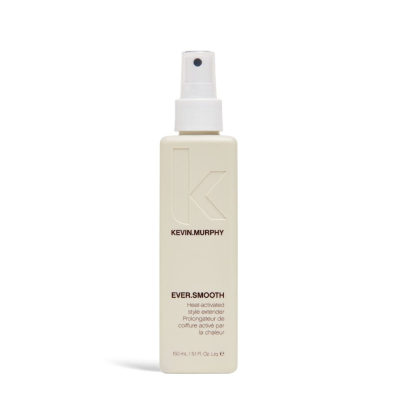 This is another heat protectant spray that knows how to smooth out the hair and keep it protected against adverse weather conditions, urban pollution and heat damage. Using Kevin Murphy Ever Smooth on a daily basis, you can be sure that it will make your strands beautiful, super shiny and pleasantly smooth. When used for a longer period of time, it leaves hair more elastic.
The formula hidden in the white angular bottle doesn't weigh hair down. Instead, it delivers numerous nutrients due to tree bark complex, white cypress extract, blue cypress extract and lemon aspen extract. You won't find any controversial ingredients in Kevin Murphy Ever Smooth. No doubt, this is a good heat protectant but you need to pay quite a lot per bottle.