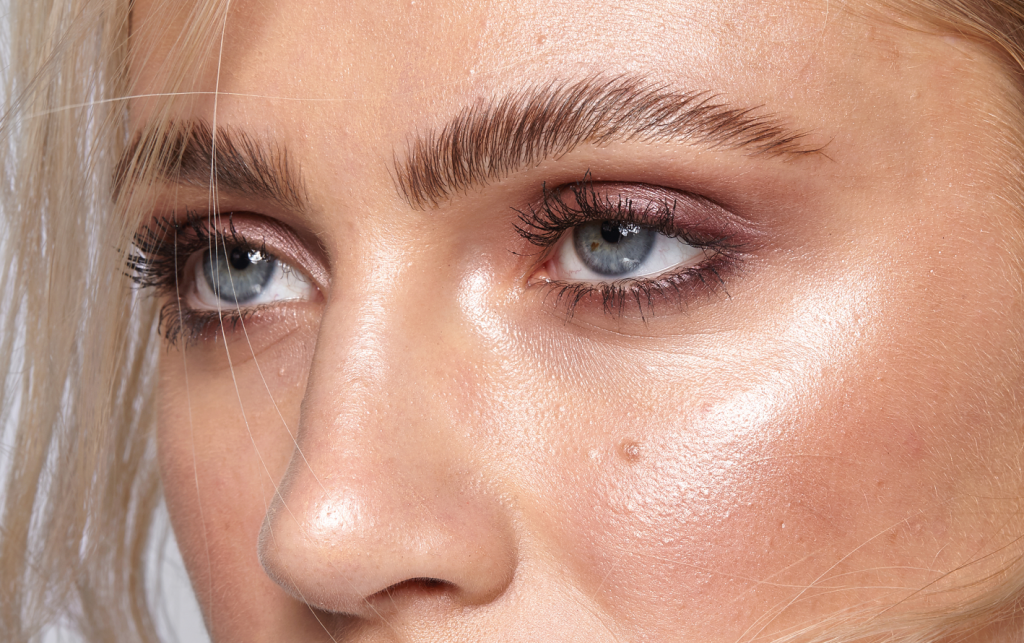 Are your eyebrows bushy, thick, and difficult to style? Regular brow gels don't do the job? Or maybe you have thin eyebrows that you want to give extra volume and improve their look? In both cases, brow lamination will work just great: a treatment that shapes and fixes the eyebrows so that they look beautifully separated and brushed up. They seem fuller and gain definition while looking elegant at the same time. Before you say that professional brow lamination done by a beautician is expensive, you should know that now you can do it yourself! All you need is a good home brow lamination kit – our ranking will help you choose the best one!
DIY brow lamination at home – it's trending!
Eyebrow lamination at home is not as complicated as it may seem, surely you already perform a lot of other much more complex treatments such as gel nails or acid skin peels. The eyebrow lamination treatment involves giving eyebrows a new shape and fixing them in it with the help of chemical solutions which are applied on the eyebrows one by one. The whole treatment is quick and efficient. Of course, provided that you have a really good kit for long-lasting brow lamination at home. Today we will help you choose the best one!
DIY brow lamination. Which kit to choose for eyebrow lamination at home?
Before you start browsing online beauty stores, typing "brow lamination kit in Douglas" into your browser, check out the following ranking first. It will likely help you find the best brow lamination kit for yourself. We've rounded up the very most popular kits that are recommended by influencers, beauty bloggers, and even beauty industry professionals. We know that a good kit for DIY brow lamination should be convenient, quick, and easy to use and, of course, give the same great results as the same treatment done in a professional salon. Do kits like that exist? Of course, it does, and our ranking of eyebrow lamination kits proves it!
Remember!

Not every eyebrow lamination kit is suitable for home use; many of them are recommended and renowned but dedicated exclusively for professional use. They require knowledge of the chemical solutions included in the kit. A skilled beautician, using them, knows exactly how long to keep the product on the eyebrows and has no problems performing the treatment, even if the instructions for use are very complicated.
RANKING: best brow lamination kits
What is the best kit for brow lamination at home? We checked it out! Our ranking was based on: the REVIEWS, QUALITY, EFFECTS, PRICES, AND PERFORMANCE of each product. We also rated the EASE OF USE of each kit. Check out which DIY brow lamination kit is the winner!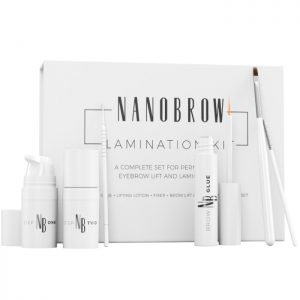 There can be only one winner, and we have no doubt that it is one of the best home brow lamination kits out there, the iconic Nanobrow Lamination Kit. Elegant, affordable, and spectacularly effective. You are bound to fall in love with it from the first use. We have not come across easier instructions for use. Nanobrow Lamination Kit contains only 3 products, which are clearly numbered, so there is no possibility of mixing up the products during the treatment. The effect of perfectly brushed up, beautifully defined, and flawlessly shaped eyebrows last up to 8 weeks, as confirmed by many users. The stylish bottles make it easy to use and apply each solution. In addition, the entire lamination process will take you a maximum of 20 minutes! It is worth adding that the kit is enough for about 10-12 lamination treatments!
WHERE TO BUY THIS LAMINATION KIT?
Nanobrow Lamination Kit is a popular and recommended home brow lamination kit, so there is no problem with its availability. Find it in online beauty stores, or order it from the brand's official website: www.nanobrow.us
2. Sassy Saints Brow Lamination Kit
OVERALL RATING: 8.5/10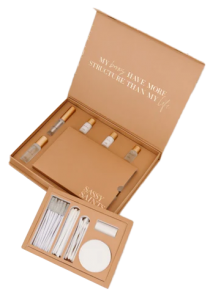 Five solutions, numbered bottles, fairly clear instructions, and a set of applicators and dust-free cotton pads: that's what characterizes this pretty renowned and recommended DIY brow lamination kit. Is it worth buying though? Many users give positive testimonials, but many users claim that the high price is a huge downside. Also, the solutions come in smaller sizes and the effects are not that long-lasting (5-6 weeks). Brow lamination at home with this kit is not complicated. It is also facilitated by an instructional video. Using only the instructions from the leaflet, you can, unfortunately, lose your way. The kit is enough for 8-9 lamination treatments.
WHERE TO BUY THIS LAMINATION KIT?
On the brand's website and many online and regular beauty stores.
3. RefectoCil Brow Lamination Kit
OVERALL RATING: 8/10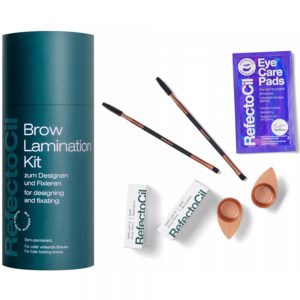 We had to include this brow lift kit in our ranking because many users claim it is a perfect home brow lamination kit. The product is renowned because of the brand which became famous for its brow tints. Is this brow lamination kit also bound to become a bestseller? Unfortunately, when it comes to home use, it's not very suitable for beginners with no prior experience with brow lift treatment. It is also worth mentioning that the price is very high: the kit is enough for about 9-10 laminations, and the effects last for a month. So, is it worth buying this brow lamination kit? The decision is up to you!
WHERE TO BUY THIS LAMINATION KIT?
Find it in online beauty stores and online wholesalers.
4. ICONSIGN Brow Lamination Kit
OVERALL RATING: 7.5/10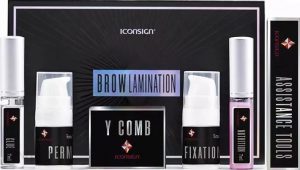 This product is undoubtedly an affordable brow lamination kit that earned its place in our ranking because it is quite popular and renowned in the market. However, is it the best brow lamination kit for home use? Apart from the affordable price and easy instructions, it doesn't have too many benefits compared to the other products in this ranking. The kit contains 4 bottles and one of them is a brow conditioner that should be applied following the treatment. It is enough for 8 laminations and the effects last about 3-4 weeks.
WHERE TO BUY THIS LAMINATION KIT?
This eyebrow lamination kit is available in Sephora, Douglas, and many other renowned beauty stores.
5. Makeup Revolution Brow Lamination Kit
Overall rating: 6.5/10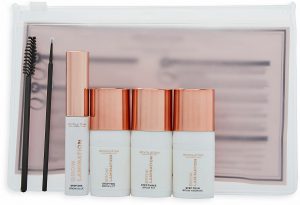 A DIY brow lamination kit that delivers decent results, but they only last for 2-3 weeks on the eyebrows. The formulas are very gentle and perform quite poorly, and their consistency makes them run out quickly (they last for about 7 DIY laminations). However, this is definitely a good kit for brow lamination at home: it's easy to use and the instructions for use are clear and easy to understand. This is another cheap brow lamination kit… is it worth the price though? Or is it better to pay a little extra to get fantastic results and a kit with great efficiency and excellent performance?
WHERE TO BUY THIS LAMINATION KIT?
This cheap DIY eyebrow lamination kit is available online and in many beauty stores.
Eyebrow lamination – what results does it provide?
The main purpose of eyebrow lamination is to make brows more flexible and unmanageable. You can style the brows leaving their natural shape or brush them up a bit to create the impression of thicker and fuller eyebrows, which works well for people with fairly thin eyebrows. The brushed-up brow look gives the brows a more voluminous look. Eyebrow lamination undoubtedly helps to enhance eyebrows and adds definition, ensuring their elegant look. It also improves their texture and volume.
Is it worth trying eyebrow lamination at home?
Because it saves you a lot of time and money: an eyebrow lamination kit allows you to perform several or even a dozen treatments, and costs as much as one visit to a beautician. It will also help you give your eyebrows a beautiful shape that lasts always and in all conditions, all day and night, for many weeks. In addition, no other procedure will allow you to shape your eyebrows so precisely and improve their symmetry: your eyebrows will become expressive and beautiful in just a few tens of minutes. It's also a huge convenience for daily eyebrow care: not only do you not have to apply makeup to your eyebrows, but also – if you want to do eyebrow makeup anyway, you will undoubtedly look better with eyebrows styled this way.
Ranking summary; lamination kits rating
Our ranking of the best DIY brow lamination kits clearly shows that there are huge differences between particular brow lift products. The difference is not only in the price but also in the quality, the method of use, and the effects. Therefore, if you are looking for a good brow lamination kit for home use, choose the one that allows you to laminate your eyebrows by yourself at home easily and deliver the best longest-lasting results. Our ranking of the best DIY brow lamination kits also shows that a good brow lift kit does not have to be expensive at all. We hope that you have found your favorite among all the listed, renowned, and recommended DIY brow lamination kits. We wish you great success in your DIY brow lift treatment!