Coming up with an effective natural skin and hair routine may be pretty challenging. Getting good care of the physical appearance requires you to find the right tools. Nowadays, castor oil seems to be the most commonly used and a massively popular cosmetic that gives outstanding effects and boosts hair, skin and lash treatments. The thing though is to know which castor oil to choose. Here is the ranking of the best castor oils.
Before talking about specific products, let's say a few words of introduction first. Despite being widely popular, castor oil still doesn't seem to be an open book to most people. This means that all of its effects on skin and hair aren't widely-known. Undoubtedly, pure castor oil hides plenty of hair and skin benefits that are worth uncovering.
Origins of castor oil
Did you know that in the past people used castor oil mainly for medicinal purposes? They used it specifically to help stimulate bowel movements. There are also records where you can read that castor oils was even used as a tool of repression? Luckily, these were old times. Today castor oil and its benefits found their way and are widely-used in cosmetics.
Still, one remains unchanged – its origins. Castor oil is extracted from ricinus communis seeds, a fairly common plant used in many regions of the world for ornamental purposes. This oil is thick and rich in unique fatty acids such as ricinoleic acid showing antiseptic activity.
Properties of castor oil
Naturally, the antibacterial effect isn't the only quality of castor oil yet it's exactly why you can use it for acne-prone skin treatments. It reduces inflammation, frees skin from toxins and minimizes acne lesions on the face so effectively that they happen to appear less often, if at all.
Still, most people perceive castor oil as the best oil promoting lash and hair growth. In both cases the mechanism is exactly the same: you have to apply the oil to the skin and when it reaches the follicles, castor oil encourages them to work more effectively, thus hair starts growing quicker.
Obviously, it's recommended to reach for castor oil and incorporate it into daily skin, hair and nail routine for extra nourishment, strengthening and moisture.
Genuine castor oil:
prevents moisture loss.
strengthens and leaves skin more supple.
deals with brittle nails.
adds healthy shine to hair.
intensifies lash color.
promotes hair growth.
restores skin's pH balance.
And these are only the key benefits of using castor oil on a day-to-day basis. Naturally, the effects achieved with castor oil depend on the problem you want to fight. For example, if your goal is to get longer and fuller-looking hair, castor oil will help you extend and boost the volume of strands. There is just one thing to remember: whether the effects you get are long-lasting and significant, you must use the right castor oil. In other words, the higher quality and purer the oil is, the better effects will be achieved in skin and hair care.
THE BEST CASTOR OILS
1. Castor oil from Nanoil (Nanoil Castor Oil)
Size: 50 ml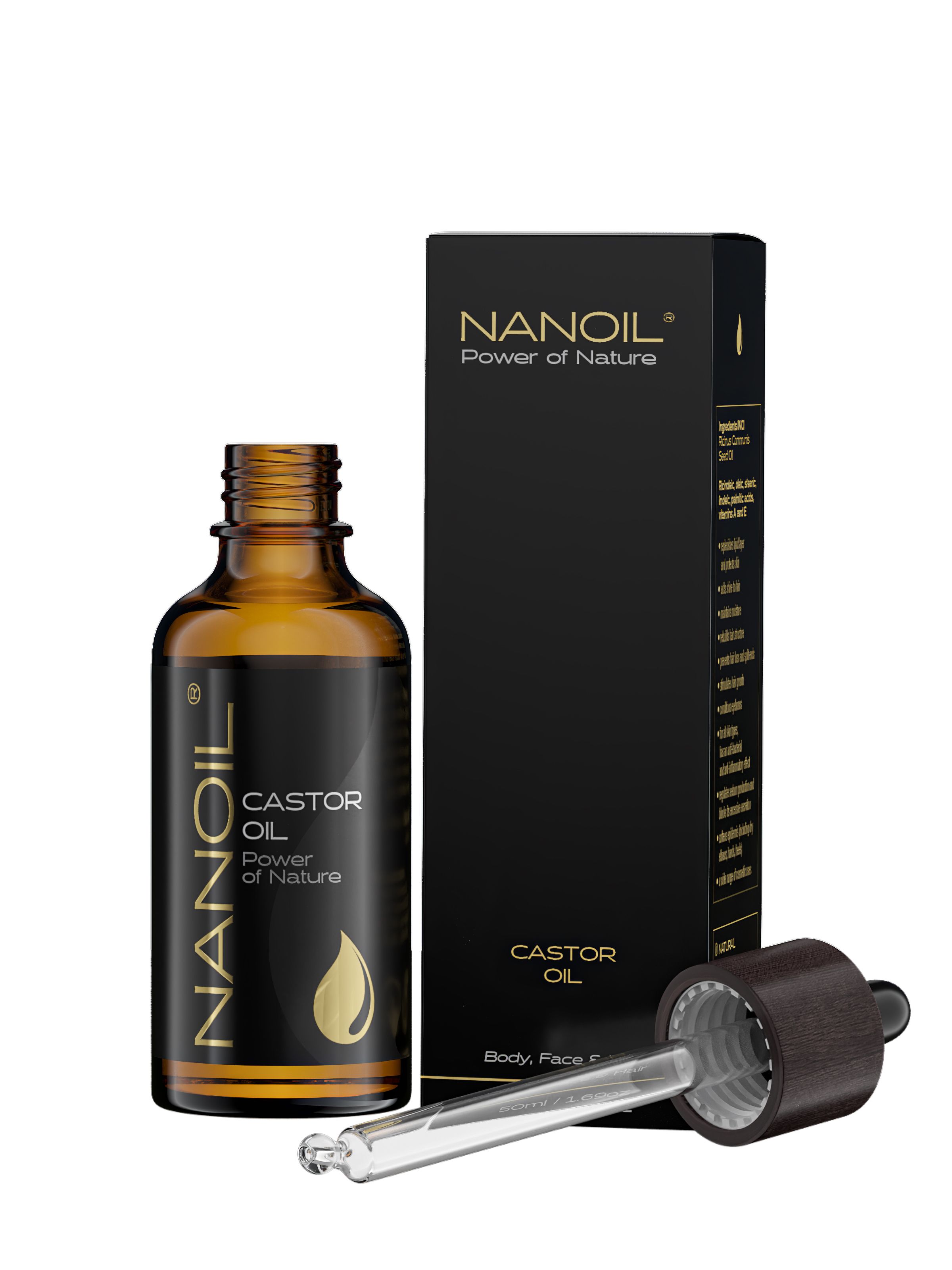 Nanoil Castor Oil is the one-and-only castor oil that rightfully deserves winning the first place. It's cold-pressed, unrefined and 100% organic. It's worth pointing out that this oil is certified by Ecocert, which proves that this is a natural and vegan-friendly product. Castor oil from Nanoil can be used on hair, lashes and on skin – even if sensitive. This all-natural oil deals with acne, dandruff, hair loss and brittle nails. Since it's incredibly nutrient-rich, you need no more than just 2-3 drops to restore softness, smoothness and healthy glow to skin. When applied to the scalp, Nanoil Castor Oil promotes hair growth and adds more body to the strands. When used on the face skin (as a constituent of DIY skin care products), castor oil limits oily skin problems, deals with acne and erases various imperfections. Undoubtedly, castor oil from Nanoil is the best one and the most effective among natural oils, which makes it a product worth having. Genuine castor oil is available on nanoil.us.
2. Castor oil from Eve Hansen (Eve Hansen Organic Castor Oil)
Size: 60 ml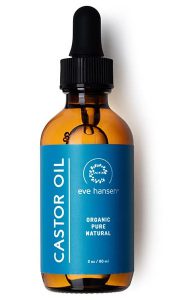 The second offering on the list is this organic, certified castor oil that belongs to an American brand, Eve Hansen. This product is rich in antioxidants and substances responsible for dealing with inflammation, bacteria and fungi. Castor oil from Eve Hansen can be used on the face to replenish skin with moisture as well as to reduce acne and handle sunburns, but most of all this castor oil can be used to improve hair condition. Still, Eve Hansen Organic Castor Oil is mostly recommended to condition lashes and eyebrows – it even comes with two applicators, one resembling a mascara wand and the other, a thin brush which facilitates spreading this castor oil over eyebrows and eyelashes to promote growth. This product design is minimalist, so is its composition. It has no additives, and this quality is worth emphasizing. Although this is one of the cheapest castor oils, it isn't available worldwide.
3. Castor oil from Kate Blanc (Kate Blanc Castor Oil Certified Organic)
Size: 60 ml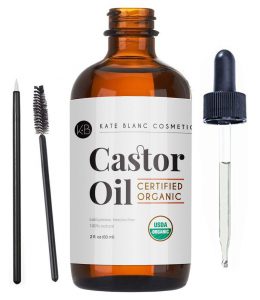 While shopping for all-natural castor oil, it's worth taking a short moment to check Kate Blanc Castor Oil Certified Organic. This oil is organic because it's extracted from ricinus communis growing in eco-friendly farming and is obtained through the cold pressing process. No additives are used in this product. Thanks to being 100% pure castor oil, this cosmetic gives amazing results in brow and lash care. Also, it makes hair grow faster. Coming with two applicators, Kate Blanc Castor Oil Certified Organic can be used as an eyelash/eyebrow conditioner and combined with a chosen shampoo. Castor oil from Kate Blanc can be considered as a replacement for a nail cuticle product and an universal skin moisturizer. This lightweight and well-absorbing oil is closed in a regular bottle made of dark glass.
4. Castor oil from Junglück (Junglück Rizinusöl)
Size: 100 ml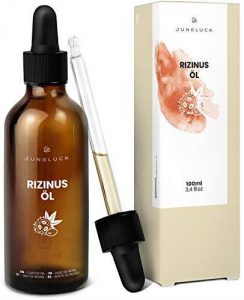 Oil belonging to German brand – Junglück, is the most expensive castor oil included in this list. This product is available in two sizes: in a regular 100-ml glass bottle with a dropper and in 5-ml samples. Obviously, this is another pure, cold-pressed castor oil originated from controlled Hindu farming. It doesn't have any color or aroma in particular, but it's pretty thick. Castor oil from Junglück nourishes, strengthens and revives. Additionally, this product supplies skin with water, yet its key function is hair improvement, which it's mostly recommended for. Unfortunately – despite having such marvelous properties and effects – there is nothing that may justify such a high price that has to be paid for this vegetable oil. There are many equally good castor oils available for a lower price.
5. Castor oil from Sunny Isle (Sunny Isle Jamaican Black Castor Oil)
Size: 118 ml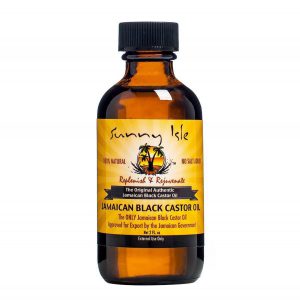 A fairly intriguing offering is saved for last, and it's this so-called black castor oil. Surprisingly, this adjective doesn't describe the oil's color because it's just regular almost translucent dense castor oil. Cold-pressed and free from any additives, Sunny Isle Jamaican Black Castor Oil can be applied on a daily basis: to the hair, body, face and even nails. Jamaican Castor Oil is used and recommended by women and men worldwide. This product helps deal with dandruff, prevents hair thinning, promotes growth and prevents split ends. Moreover, it reduces scars and wrinkles, maintains hydration and is antibacterial, which makes it a good natural product dealing with acne. On top of that, this is a fully organic oil, yet its design isn't as impressive as other products' on this list.