There are better and worse cosmetics. Nanoil serum for couperose skin, however, seems to be off the scale. This is the gentlest and at the same time an efficacious formula to improve and soothe couperose skin. Nanoil Anti-Redness Face Serum is one of the best serums you can use when you want to say goodbye to broken capillaries once and for all. Won't believe it? Go on reading then.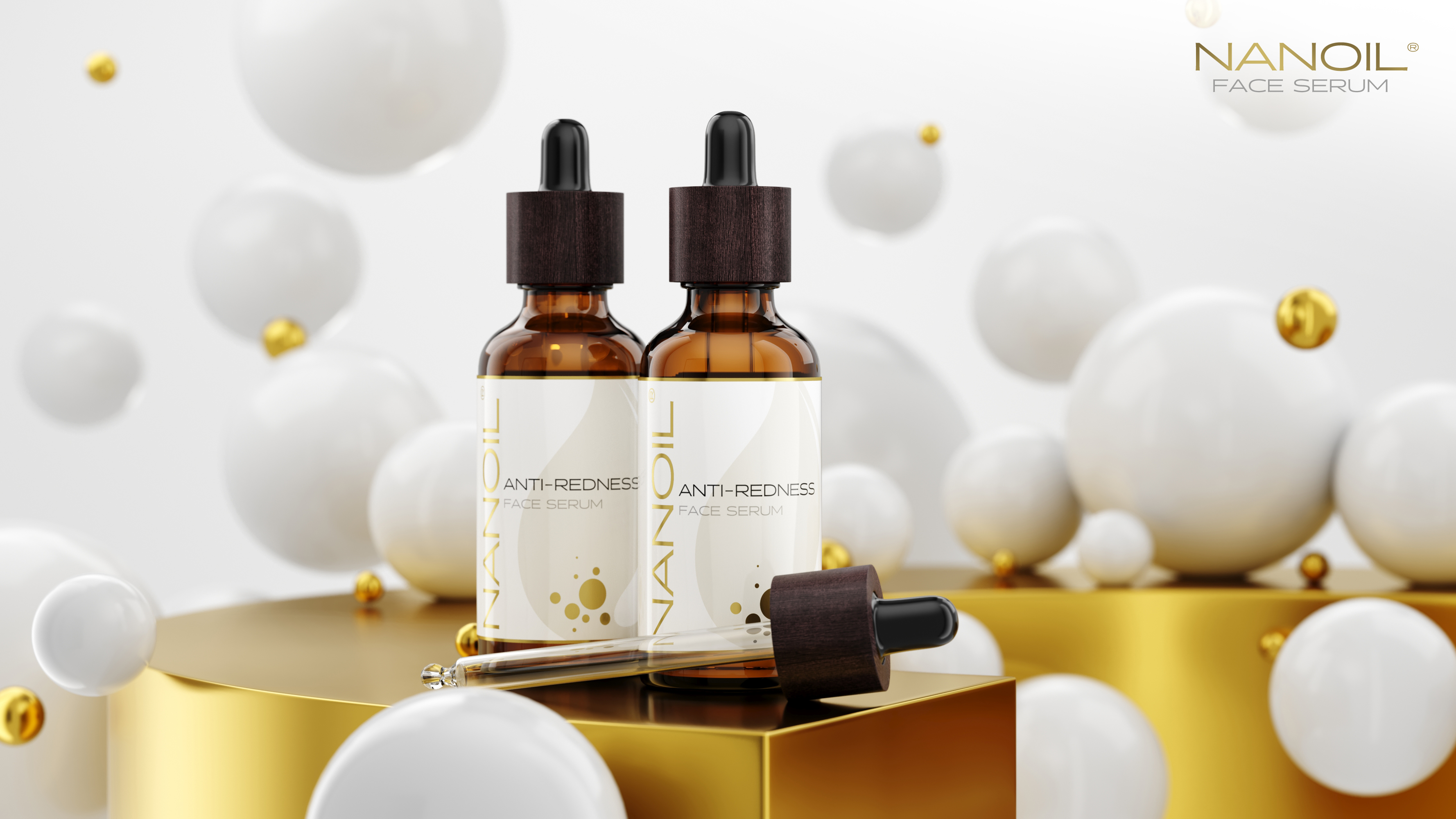 Couperose skin care
Taking care of couperose and sensitive skin is like playing Russian roulette – you apply a cosmetic and keep your fingers crossed that it won't work like a time bomb, causing irritation and facial redness. There is no place for mistakes because each one of them costs us new spider veins, spots and minor discomfort. Therefore, it's worth bearing in mind that doing your best to match the right skincare products to this reactive skin type is of the highest importance, bringing you closer to clear and calm skin. The cosmetics put on couperose skin need to be formulated with naturally-derived ingredients but free from alcohols, aromas and dodgy chemicals. Tenderness is crucial.
The best serum for couperose skin
What serum proves itself to be ideal for couperose skin? There is only one top product of the latest months – Nanoil Anti-Redness Face Serum. A lightweight formula saturated with nourishing substances to solve most problems of this skin type – soothe irritation, reduce redness and prevent spider veins.
This is one out of six Nanoil face serums that took the beauty industry by a storm, winning hearts of not only women but also skin specialists and cosmetologists. And there are at least 5 reasons proving this serum to be the best.
5 reasons why Nanoil Anti-Redness serum is a HIT
1. This is an ultra-lightweight formula
The cosmetics used for the daily beauty ritual of couperose and easily irritated skin must be lightweight – no doubts about it. Skincare products applied on a day-to-day basis can't clog pores because this will only make matters worse. And this is why Nanoil Anti-Redness Face Serum is water-based, thus having a fast-absorbing consistency. It takes just a few seconds to penetrate the epidermis.
2. Contains top-quality ingredients
Another huge advantage of Nanoil serum for couperose skin is the composition. The serum is a combination of four plant extracts (from horse chestnut, linden, cypress cones and Indian Punarnava) with vitamins and moisturizers. There is no ingredient that may irritate this extremely delicate and sensitive skin. Each component plays a certain role so it's presence in the formula is justified.
3. Is efficacious
Nanoil Anti-Redness Face Serum is a cosmetic whose main task is to bring relief to the skin that shows all or some of the symptoms typical of couperose skin: burning, itchiness, redness and discoloration. It prevents broken capillaries and brightens spider veins. The serum reinforces the walls of blood vessels and soothes inflammation, helping skin become normal and less reactive. You don't have to wait long to see the difference – Nanoil face serum for couperose skin brings immediate effects.
4. Is a multi-tasker
It's also worth pointing out that despite targeting specific skin concerns, Nanoil face serum can be introduced to the daily skin ritual and used as the only face serum that you apply. This product is able to handle a few tasks in a single step in order to improve the skin – when it fights back all the problems typical of couperose skin, it starts moisturizing, nourishing and protecting from irritants.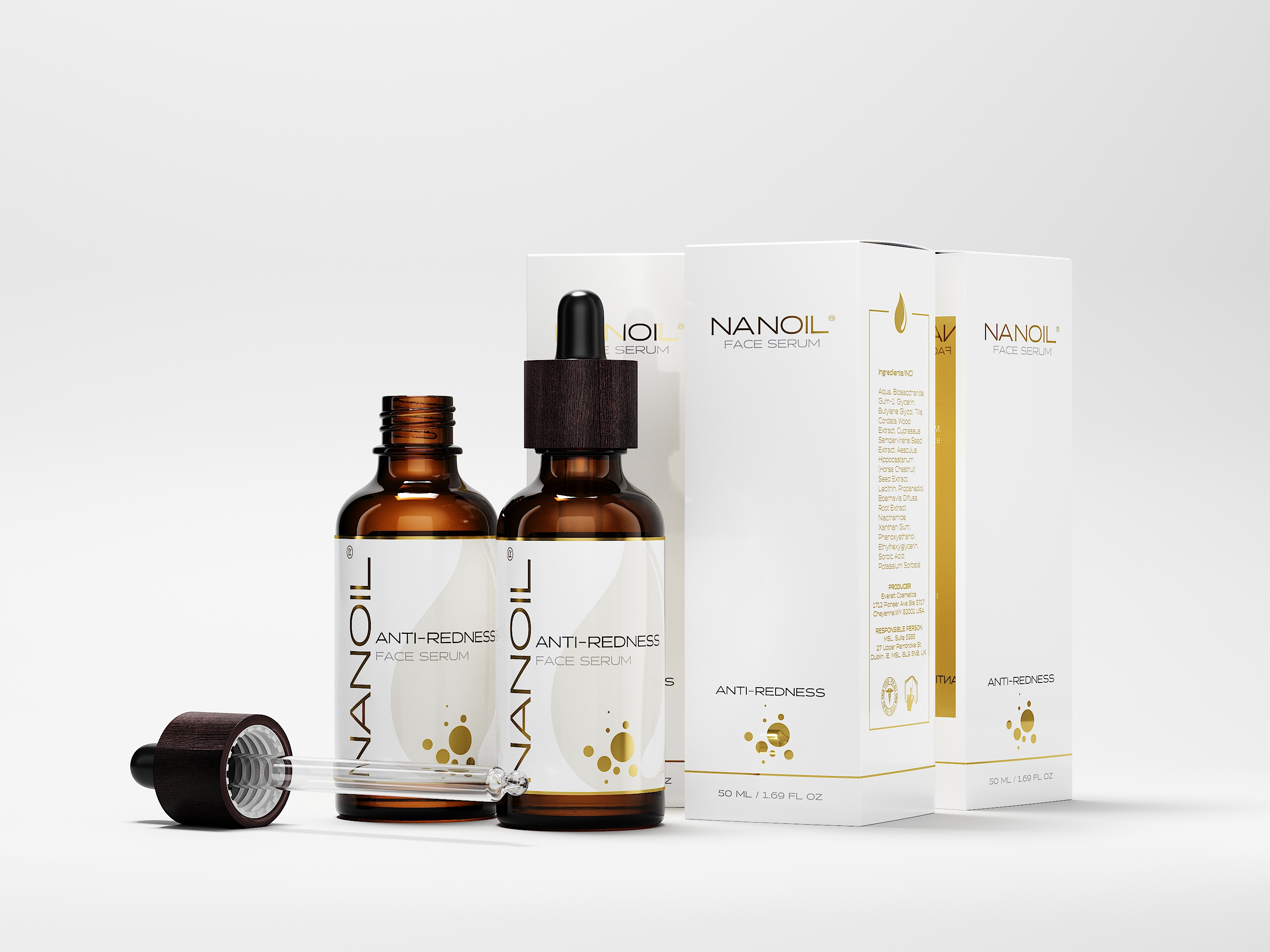 5. Is easy to use
Do you have to spend much to get all of these effects? No! Neither much money nor time needs to be spent. Nanoil serum for couperose skin is a product that you can effortlessly introduce to your daily beauty ritual. Just cleanse the face by removing makeup and other impurities, and pat a small portion of the serum into the skin. If you want to, you can give your face a short massage using a cool jade roller, however, this step it's not compulsory for the serum to work as intended.