By exchanging the most popular natural oils, you cannot skip the white butter with a beautiful, coconut scent.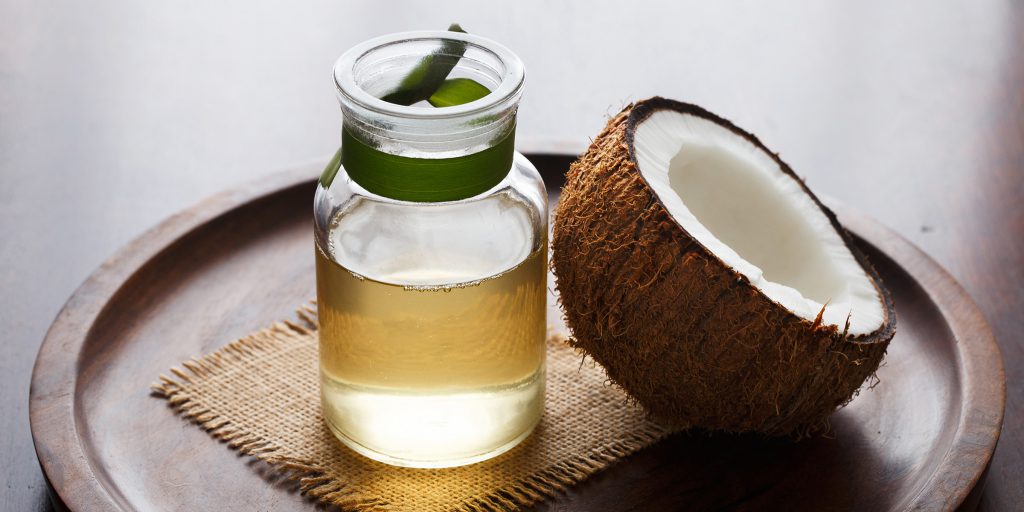 Coconut oil is one of the most willingly used cosmetic oils. Its effect on hair and skin is invaluable, and the versatility of applications makes it a multifunctional product, which successfully replaces a dozen drugstore cosmetics. At present, it is also coming back favours as a healthy diet component – it turns out that it contains a high concentration of an exceptional fatty acid (lauric), which … speeds up the metabolism and helps to lose weight. What extraordinary things can we expect from it in the field of cosmetology?
Coconut oil INCI: Cocos Nucifera (Coconut) Oil
Coconut oil properties and use in cosmetics
It turns out that no other oil is as versatile as coconut oil. Its versatile cosmetic use is impressive. Coconut oil can be used as:
a regenerating mask for heavy hair that lacks volume
a creamy and fragrant foot serum with disinfectant and antiseptic properties
cream for rough skin on hands, elbows and knees
an ointment healing all skin irritations and lesions
a serum for damaged hair ends
an eye gel that tightens the skin and smooths wrinkles
an oil for the care of splitting and brittle nails
a whitening toothpaste
a mask that strengthens the face's elasticity
an antiseptic fluid
a face and eye makeup remover oil
a serum combating acne lesions
a massage oil
a balm for chapped lips
a body lotion (especially after sunbathing)
beard oil
oil for and after depilation
What does coconut oil contain? [composition]
Coconut oil is a source of lauric acid with unusual properties (acts bactericidal, combats acne, cures irritations and calms the skin). In addition, coconut oil contains a set of vitamins and minerals that, thanks to small molecules, penetrate deep into the epidermis and into the inner layers of hair. In its composition, we will find vitamins B1, B2, B3, B6, C, E, as well as folic acid, calcium, magnesium, iron, phosphorus and zinc.
Coconut oil for hair – effects 
Coconut oil – despite the entire range of applications – has gained popularity primarily as a mask that nourishes and regenerates hair. It has been promoted in the countries of the Orient because it is a very good base for Indian herbs and flowers. The Hindu are applying macerates obtained from coconut oil (in the form of a base) and a series of Indian herbs for centuries used for the care of strands (amla, brahmi, bringaraj). Tahitians, thanks to the soaking of monoi flowers, receive intensely fragrant hair and body oil, which is almost perceived as a national treasure there.
Coconut oil is an extraordinary conditioner – thanks to its small particles, it is absorbed into the hair, it strengthens the bulbs, protects the strands from the sun and acts antiseptically on the scalp, cleansing it and providing hydro-lipid balance. Thanks to it, the hair gains elasticity, vitality and shine. The strands become smooth and easier to style.
Coconut oil – what hair type it is suitable for?
Coconut oil is best matched (due to the size of its small particles) to low porosity hair – that is, thick, heavy, stiff hair that lacks volume. It is fascinating that the fat oil does not overload the hair, but immediately absorbs and cleanses the scalp and at the same time provides the hair with lightness and volume. Unfortunately, with the hair with higher porosity, it can behave quite differently, for instance, cause frizz to the ends. Therefore, it should be used by women with low porosity hair. Coconut oil is a good ingredient for any blend of oils because it helps the substance preserve its valuable properties, and extends the life of other oils.
Coconut oil – price
When buying coconut oil, you can notice a huge price discrepancy. Its price depends on many factors. The best coconut oil is the one that is organic, bio, cold pressed and unrefined – only this contains a number of valuable ingredients (vitamins and fatty acids die in the process of oil refining). When buying coconut oil, it is worth bearing in mind that too low price can mean that oil is refined or non-organic.
Coconut oil reviews
Coconut oil in the care of the body and face collects very good reviews – fits any acne, dry to mature skin. When it comes to hair care – opinions are divided. This is due to the fact that coconut oil is mainly suitable for hair with low porosity – hence the opinions appearing online that coconut oil causes frizzy hair. However, it often serves women to determine the porosity of their hair – if the oil does not dry hair, it means that the strands have low porosity.