Pure Series form Dermika
Dermika brand has just prepared for us special cosmetic series destined to clean our face skin. The series comprises of: make up removal preparations, products to cleanse face skin, tonics and enzymatic peelings. The cosmetics of Pure series are destined to take care of all possible skin types, at all ages. What is more, in Dermika products the manufacturers emploed several interesting ingredients. These are, among others, oiling and protective substances, plant enzymes of exfoliating and smoothing properties. What is more, the ingredients are also responsible for eliminating dead dermis cells. The enzymes can also ease inflammations, relieve irritations and strengthen the protective layer of skin.
Cosmetic of Pure Series from Dermika
The main components of Dermika Pure Series consist of several micelle liquids. One of them is a soft micelle lotion destined for dry and normal skin. It gently removes make up of applied on face and eyes. What is more, it does not make skin dry and provides the durability of lipid layer of epidermis. Additionally, the micelle lotion contains rose water which gently cleanses and moisturizes face skin. The second component of Pure Series from Dermika is another micelle lotion the aim of which is to remove make up out of oily and combination skin. The pomegranate extracts relieves irritations and nourishes face skin. Furthermore, this lotion reduces the excess of sebum, providing at the same time, moisturization and successful make-up removal. On the other hand, people having sensitive skin are recommended to use micelle lotion with eyebright extract. It contains soothing properties and positively influences eye skin area.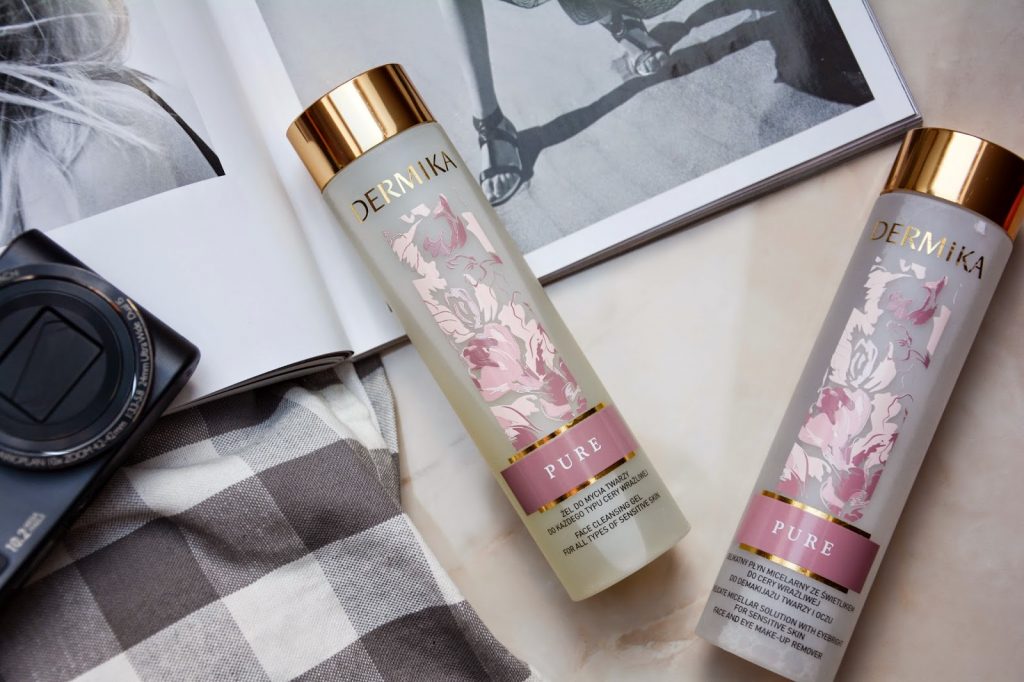 Dermika cosmetic brand added also two tonics to develop Pure Series. The first tonic can be applied on any skin type. It includes α-hydroxy acid, also known as AHA or glycolic acid, which means that the tonic is of contracting and exfoliating properties. Despite that, the tonic smooths, evens skin tone and contributes to cell rebuilding process. The other tonic has got nourishing and moisturizing features. It is recommended for dry and normal skin at any age. Moreover, the product moisturizes, counteracts against excessive flaking of face skin, eases and makes skin fresh.
The only cleaning cosmetic is Pure gel. It contains mild cleansing agents, due to which people having sensitive skin are free to use this Dermika product. What is more, the gel removes make up, moisturizes, eases, regenerates and refreshes face including also delicate eye skin area.
Furthermore, Pure Series form Dermika contains also two enzymatic peelings. The first one is recommended for dry and combination skin. Thanks to white clay, the peeling removes dead skin cells, cleanses blocked skin pores, refreshes and softens skin. The second product is destined to oily and combination skin care. Yellow clay, in turn, cleanses skin deeply, reduces excess of sebum leaving skin slightly contracted and ready for a moisturizing cream application.