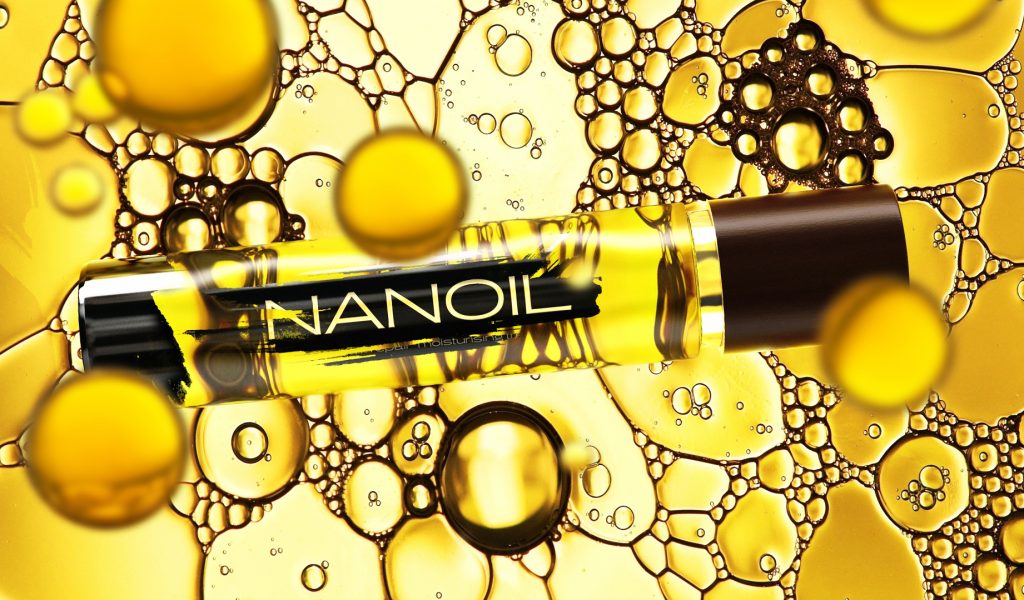 Damaged hair is always dry yet not every dry strand is damaged. Although there is a big difference between dry and damaged hair, both types need intensive and complex care. Check how to take care of distressed hair. Meet a new product – Nanoil for high porosity hair that matches the needs of this hair type.
We are surrounded by hundreds harmful factors that weaken the condition of our hair. Hair colouring and bleaching are the most destructive. Flat and curling irons, blow-driers, using too heavy products containing irritant substances also damage fragile strands. Even lack of protection from bad weather conditions causes damage of external hair layer. Cuticle scales raise so hair becomes highly porous.
What does hair porosity mean? Natural protective layer – made of cuticle scales – gets porous. Due to harmful agents, scales open thus hair protection gets weaker. Hair quickly loses moisture and essential active ingredients. It gets stiff, rough and dull.
How to take care of damaged hair? High porosity hair care requires complex and deep action. Silicone conditioners deliver shine and smoothness until next wash but they won't improve hair condition permanently, that's for sure.
We can take different actions:
short-term that mask the damage,
long-term that influence hair and scalp.
Hair oiling is one of the most effective methods. It belongs to the group of long-term treatments. It is a good idea to use Nanoil for high porosity hair. The product can boast about an ideal composition of ingredients that are essential for damaged hair e.g. pure keratin that builds our hair. Read about a few rules for high porosity hair care before reaching out for hair oil.
FIVE HAIR CARE RULES FOR DAMAGED HAIR
I. Reduce damaging agents
Nothing easier. High temperature harms your hair so stop using flat irons and blow-driers. Wash your hair in the evening and cut down on heat styling tools. If you notice frizz or dandruff after using some cosmetics, you must give up on them. Deliver sun protection and shield your hairdo from rain and wind.
II. Trim damaged hair ends
Sadly, you cannot avoid it. There are no products that have the ability to bond split ends back together. But you can keep them from splitting. Cut the most damaged part of your hair – the maximum you can trim. Depending on your hair damage, it can be a few millimetres or centimetres.
III. Learn to gently wash your hair
Nourishing hair is one thing. Cleansing is also important. Using shampoos with SLS and SLES isn't beneficial. Choose delicate shampoos e.g. for kids and wash hair not more often than every 2-3 days. Daily washing isn't recommended because it deprives scalp and hair of a valuable lipid protection.
IV. Treat your hair gently
Remember to brush your hair before every washing – it won't be so tangled or exposed to damage. Avoid combing wet hair because it is more fragile. Tie your hair up in a loose bun or make a comfortable braid before going to sleep. Avoid tight hairstyles during the day – they weaken hair bulbs.
V. Do hair oiling
Apply oils as often as you can! It is the most important part that enables us to repair, nourish, moisturise and reinforce damaged hair. Just remember to choose a product that contains oils suitable for high porosity.
There is only one such a cosmetic for damaged hair: Nanoil for high porosity hair that consists of six vegetable oils rich in omega-3 and omega-6 essential fatty acids.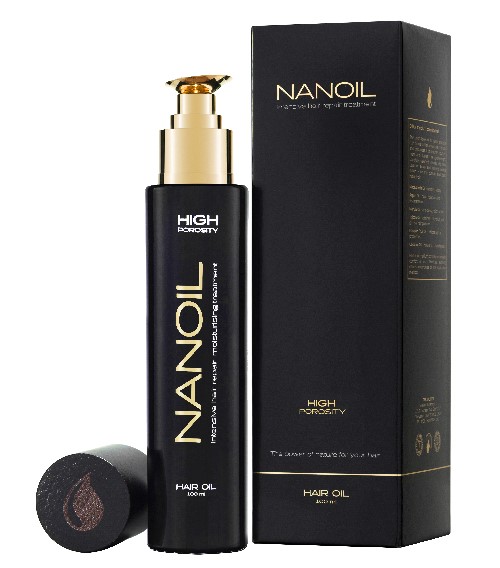 Women love it for its attractive price, amazing design and excellent effects. It is an irreplaceable product for damaged, dehydrated, excessively falling out hair that gets frizzy in contact with dampness. It is one of the three versions of Nanoil hair oils. Nanoil for high porosity hair focuses on deep repair, proper moisture, complex nourishment and visual make-over.
Nanoil for high porosity hair is composed of:
almond oil – moisturises and reduces brittleness,
evening primrose oil – removes toxins, improves condition of the scalp,
maracuja oil – prevents greasy hair, brings elasticity,
argan oil – heat protection, repairs, seals cuticle scales,
avocado oil – intensifies shine, smooths, anti-frizz.
cottonseed oil – protects delicate hair ends.
The oils are intensified by: panthenol, keratin, UV filter, vitamin E, lanoline, silk and innovative complexes that prevent hair loss and stimulate hair growth.
It is a lightweight formula of excellent absorption and fresh scent thanks to natural aromatic substances. It is free from parabens, silicones and alcohols so it can be applied to hair as well as to scalp. You don't need to worry about weighed down hair and clogged pores.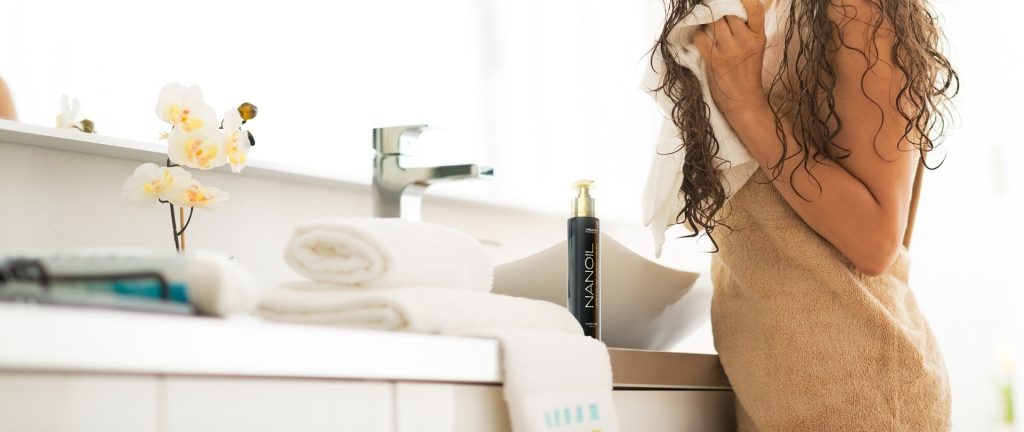 Nanoil for high porosity hair comes in a capacity of 100 ml – concentrated oils of the best action. The manufacturer has taken care of the product's effectiveness as well as of the design. The narrow black bottle is made of a thick glass. Golden elements and wooden cork make the bottle unusual. The bottle is equipped with a very handy and wide pump. Such a handy, useful, elegant and extremely effective product is good value for money. You can use it for different hair oiling methods, depending on your needs and time you have.
There is only one condition that Nanoil sets out: regularity!