Celebrity Collection Caviar and Truffle from Bielenda comprises of four cosmetic products. These include: a revitalizing serum, a firming mask (Actively Rejuvenating Therapy), a night cream-concentrate, a day cream with SPF 10 filter, and an under eye cream. All the products are connected with one goal – the fight against both wrinkles and the first signs of skin aging. The cosmetics constitute of unique ingredients, such as, copper, truffles, hyaluronic acid and caviar.
How do particular components work? First of all, copper distinguishes itself with its anti-aging properties. Additionally, this element oxygenates dermis cells and firms skin. The second ingredient, truffles, are rich in various vitamins and minerals. In cosmetics from Celebrity Collection from Bielenda truffles are responsible for moisturizing, nourishing and highlighting the pigmentation marks of face skin. What is more, copper also provides protection form contaminates. Thirdly, hyaluronic acid reduces wrinkles and moisturizes the deepest layers of skin. Caviar, in turn, enhances rebuilding of epidermis, regenerates and nourishes.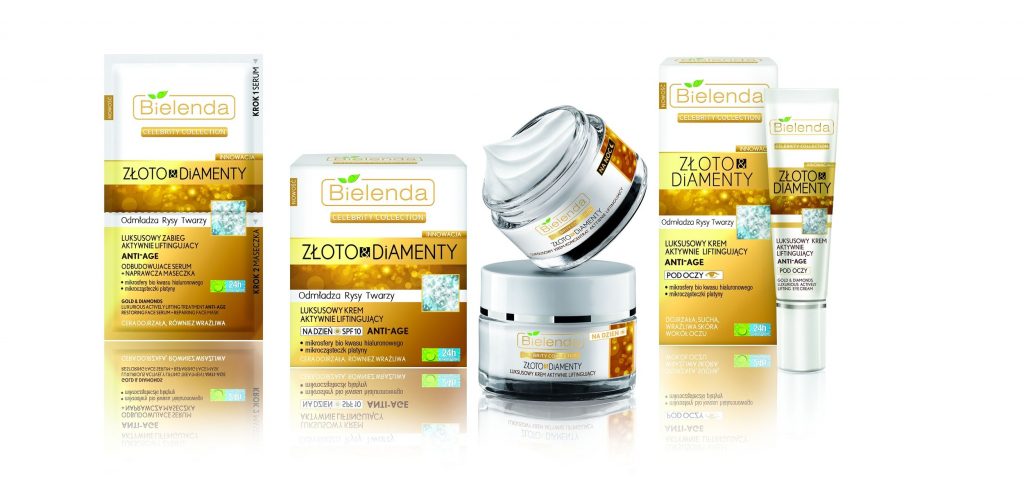 All the cosmetic of Bielenda series smooth and firm face skin. What is more, these products restore face's freshness and young appearance. Furthermore, these not only improve the oval of face but also equalize skin tone and take care of epidermis nourishment. It is also worth mentioning, that Bielenda cosmetics do not comprise of parabens, colourants, paraffin wax, PEG and other artificial or hazardous substances. These can be applied freely by people having sensitive or dry face skin.
The under eye cream eliminates the dark circles under the eyes, also known as under-eye bags. Moreover, this cosmetic smooths skin and adds glamorous glow to face. Another considerable advantage of the under eye cream from Celebrity Collection is that, it shallows wrinkles (so called crow's feet) which are naturally formed while one is getting older. The cream moisturizes, protects and takes care of delicate skin of eyes area. It is to be applied on a day-to-day basis, both in the morning and in the evening. The capacity of the package equals 15 ml.
The serum and mask are the components of Rejuvenating Therapy Series. Their aim is to make skin more elastic, smooth and highlight age spots. The serum should be massaged into cleansed skin of face, neck and cleavage and, then, left until absorbed. After 10 minutes, the mask should be applied. After this period of time, it is suggested to massage the excess of the cosmetic into the skin or simply remove it with a cotton pad. This type of beautifying treatment is to be applied twice up to three times per week. The capacity of the serum and mask is proportionate to 5 grams.
The day and night creams rejuvenate skin, restore its natural tension and elasticity. In addition to this, the products minimise visibility of wrinkles, brightens discolouration, moisturize and nourish skin. The creams are of 50 ml capacity. These, similarly to the serum and mask, should be massaged into cleansed and dry face, neck and cleavage skin. It is also worth adding, that the day cream protects skin from the solar radiation since it contains SPF 10 filter.