Day Wear Advanced-Multi Protection Anti-Oxidant Moisturizer from Estee Lauder is destined for normal, combination or dry skin types. Depending on the skin type, you can choose from the most appropriate version of the product. The cosmetic has got moisturizing properties. And what does it mean in practice? The producer claims, that the cream fights against the first signs of skin aging, reduces the visibility of small wrinkles, marks and discolourations of the skin. Additionally, it makes the skin moisturized and regenerates dried skin. Certainly, one of the reasons of wrinkles appearance is dehydration of skin. Together with water, disappear hyaluronic acid and collagen which, in turn, are responsible for elasticity and smoothness of skin. Dry skin tends to peel and become wrinkled easily, and the collagen fibers become weaker, slowing at the same time the cell regeneration and changing the facial contours. That is why, when we moisturize skin, we lengthen our youth. Due to the ingredients included in Day Wear Advanced-Multi Protection Anti-Oxidant Moisturizer from Estee Lauder we add glow to our skin, make it more fresh and recover the natural tension of the complexion.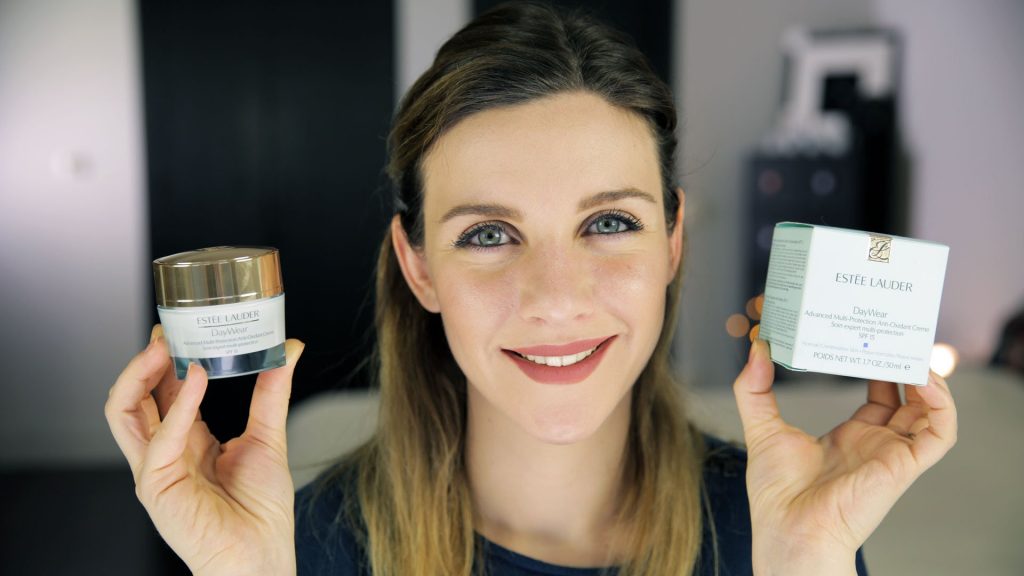 Day Wear cram from Estee Lauder brand comprises also of filter SPF 15 sunscreen. It is important feature since sun rays also have a great impact over our skin. Too long skin exposure to sun results in water loss, and as a consequence, wrinkles and hyperpigmentation creation. By applying Day Wear from Estee Lauder, we do not only protect our skin from UVA and UVB radiation but we also prevent our skin from wrinkles, spots and scars formation.
What are the other causes contributing to wrinkle creation? These include, for example, dermal contamination and filled skin pores. While cleansing complexion with a tonic, or while exfoliating dead skin cells, we help our skin to regenerate. What is more, during exfoliate process the massage of face is done which, in turn, brings positive outcomes in a form of enhanced blood circulation. Day Wear cream form Estee Lauder contains also special ingredients of proven antioxidant effect. Antioxidants help with neutralizing free oxygen – substances responsible for skin aging processes.
Day Wear Advanced-Multi Protection Anti-Oxidant Moisturizer was tested dermatologically. It does not cause acne and, also, it does not block skin pores. It is available in two versions – of 30 ml and 50 ml. Estee Lauder's cosmetic is to be applied in the morning and in the evening right after the application of a serum or a skincare cream.