Hair lacking volume and flat as if glued to the scalp? A novelty from Nanoil is a remedy – a volumizing spray, Hair Volume Enhancer. Check what it does – step by step – to allow your daily styling routine to give you a dream, push-up effect on your hair.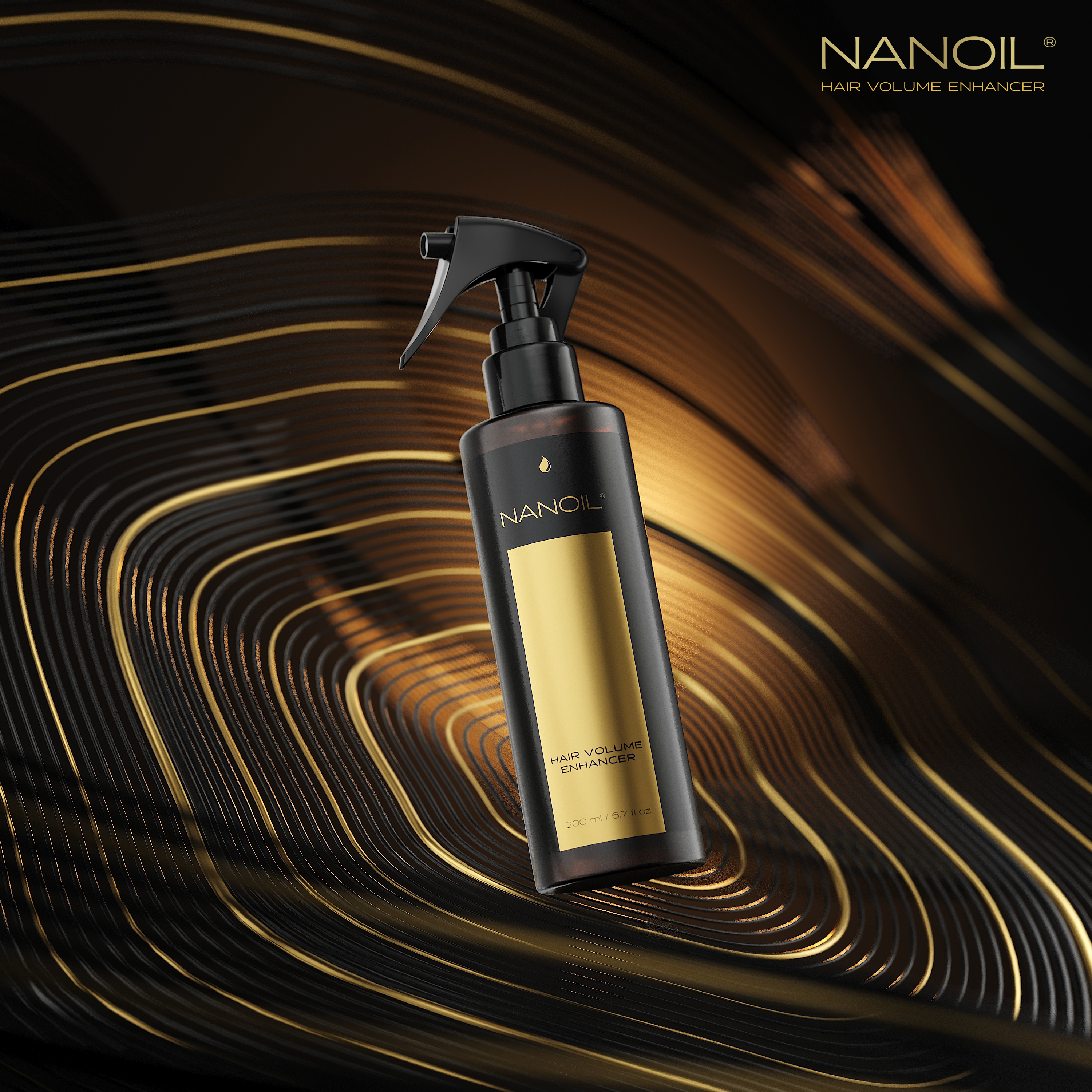 Beauty products from Nanoil have proven that simple solutions are best many times – they target the source of the problem precisely. When we struggle with volume-deprived hair that falls flat and looks unfresh then it's good to reach for innovative products that stylists and consumers recommend. This time Nanoil offers a Hair Volume Enhancer – a volume-boosting spray for hair. Its groundbreaking performance is based on five points – each guarantees the final result is the one you desire: XXL volume and hair that doesn't lose the natural feel.
What does the Nanoil Hair Volume Enhancer do?
It lifts the roots, which is the first step to the dream hair volume. Moreover it's recommended for all hair types, thick and heavy or fine and prone to oil build-up. Nanoil Hair Volume Enhancer will prove effective even on extremely damaged strands which lose body quickly. Spray it all over the hair after shampooing or on dry strands just before heat-styling, and move on to creating a look you like.
It instantly increases volume. Nanoil Hair Volume Enhancer is the only primer that works instantly without forming a greasy or crispy layer on hair. This means you don't need other styling products. Nanoil allows the style to stay light and voluminous all day.
It thickens and makes hair look fuller. Perfectly-suited substances produce spectacular effects after the first use. The formula contains keratin which is a natural building block of hair, and thanks to that, improves the appearance and thickness of hair. Nanoil Hair Volume Enhancer is also rich in wheat proteins which strengthen the strands, make them easier to style, and stop frizz or static. Panthenol also makes hair thicker, as well as tames frizz and heightens shine.
It offers smoothness for easier styling and detangling. Nanoil Hair Volume Enhancer makes the most unmanageable strands easier to handle, also during blow-drying or flat-ironing. The cuticle is smoothened so hair doesn't tangle. A wonderful scent of the spray stays on the hair all day.
It increases shine, protects and nourishes hair during styling routine. Nanoil experts know that flawless hair is not only healthy but also glossy. To keep it like that, we need to guard it from external aggressors like wind, scorching sun, frost or humid air which take hair volume away. Nanoil Hair Volume Enhancer also stops fumes and dirt from building up on hair.
Getting Nanoil Hair Volume Enhancer from the brand's official store on www.nanoil.us is the most convenient. The price is a pleasant surprise while the product's top quality earns hundreds of positive user reviews.