Face lines, dark spots, limp skin? Say NO to the first signs of aging by choosing Nanoil Face Serum enriched with retinol. You deserve professional skin care so don't hesitate any longer and give it a try!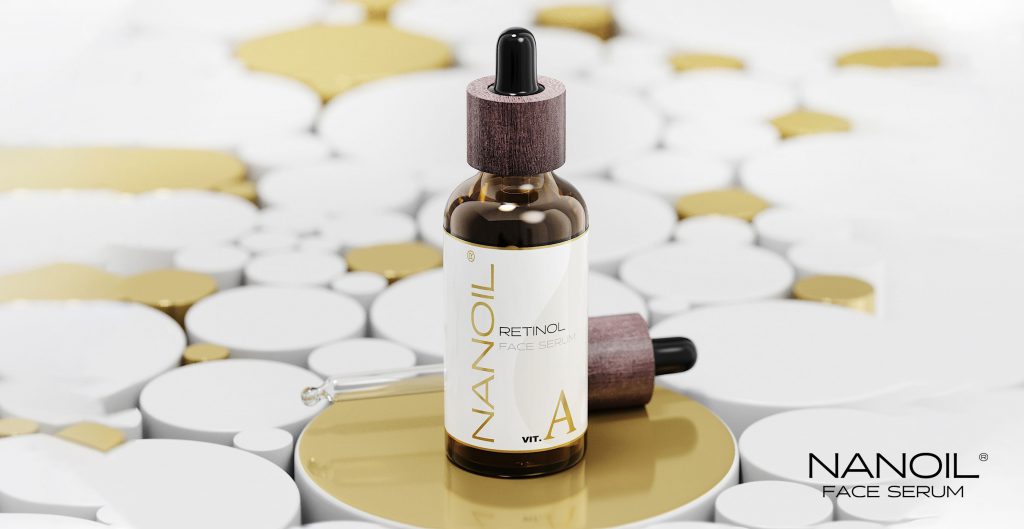 You can't keep time from passing but you can delay the consequences of aging. You can do that by using antiaging products that enhance natural skin repair process and let you preserve young appearance longer.
Cream, mask or serum maybe? What works best? What should you pick once you spot the first signs of aging and want to take immediate action?
Effective antiaging skin care routine
The best antiaging skin products must be high in nourishing ingredients. Serum is an unquestioned king of effectiveness yet it must contain the right substances. The ones that are able to slow down the aging process, reduce wrinkles, add elasticity and brighten the skin.
My today's suggestion is a face serum including retinol – a vitamin that has a surprising antiaging effect. It smoothes out, firms and tightens the skin, making the face lines less visible and repairing the skin. A must-know thing: the range of skin benefits that this cosmetic provides is very wide. Which retinol-based serum is the best ?
Nanoil Retinol Face Serum
A new arrival that girls all over the world love – Nanoil Retinol Face Serum is lightweight, precisely reaches the source of skin problems and boasts incredible effectiveness. It makes the best pick for all people seeking effective antiaging treatment.
The composition of Nanoil Retinol Face Serum is its biggest benefit – it is made out of just a couple of substances but they are composed so as to create a brilliantly-working formula. Retinol – the purest form of vitamin A – plays the main role in the serum. Thanks to the vitamin, this serum is the best support for skin which fights with aging, spots, dryness and dull color.
What benefits do you get from Nanoil Serum?
Reach for this kind of vitamin therapy if your skin is dry or simply in bad shape or when you fight with pigmentation spots. Only 2-3 drops of serum per day is all it takes to revitalize the skin. They can be compared to fuel that keeps skin going, stimulating its repair and cellular renewal. After just a few uses, Nanoil Retinol Face Serum:
restores skin's softness and smoothness.
smoothes face lines and reduces their number.
visibly boosts elasticity.
reduces hyperpigmentation and all kinds of spots.
intensifies hydration and adds radiance.
The great thing is you don't need to wait for the younger-looking skin long because Nanoil Retinol Face Serum is meant for achieving specific goals and it does it fast – after just one application it leaves skin radiant and way smoother, plus you can actually feel the boost of moisture.
What's important, Nanoil Face Serum adapts to the needs of skin. If your skin's biggest problem is pigmentation spots, the serum will make them brighter. If your face looks dull and sallow, Nanoil will give back its natural shine. This is the only product on the market that works this way.
Nanoil Retinol Face Serum – price, availability
How much do you pay for the pleasure of using Nanoil Serum? It depends on the quantity of products you buy.
The full offer and prices are available on the brand's official site www.nanoil.us. If you want to check how the product works on your skin, place an order for your Nanoil Retinol Face Serum there – you can be sure that the serum is genuine, plus the delivery is fast.
Thousands of women worldwide have already trusted products from Nanoil. Join them and feel the powerful effect of retinol on your skin.