Neocollagen series is especially recommended to mature women, between the ages of 50 and 70. Skin of those women is in need of the immediate rebuilding processes, quality enhancement, as well as, regeneration and nourishment treatment. Cosmetics of Neocollagen series include several ingredients specially formulated to help with enhancing skin condition. So what products in particular are the components of in Neocollagen series and what are their properties?
In Dermika collection there can be found four creams designed for the mature skin needs: a day and night strengthening 50+ cream, a repair 70+ cream, a multi-collagen night cream/mask, and a regenerating under eye cream. The first four creams are responsible for the improvement of dermis density. What is more, these also have got rejuvenating properties, reduce visibility of wrinkles and skin pores, brightens up face discolouration and improves firmness and elasticity of skin. Furthermore, Neocollagen creams boost appearance of face skin. At most, these tighten and smooth the skin of forehead, temples and around mouth skin. When it comes to the multi-collagen regenerating cream, it is created to fight with the wrinkles that tend to appear under eyes area. Thanks to the light formula people having thin and sensitive skin can freely apply the multi-collagen regenerating cream. Furthermore, this product enhances eyelid skin tension, pushing them up and simultaneously make eyes look larger.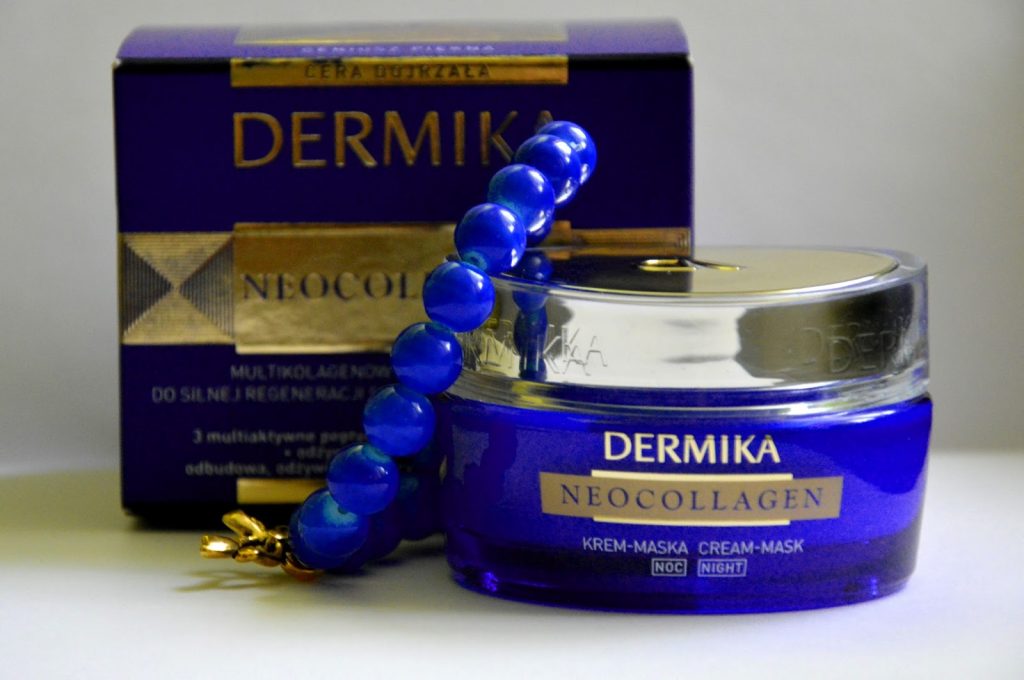 Of what components are composed the cosmetics of the Neocollagen series from Dermika? These are created out of the following ingredients: lipid, peptides and substances responsible for the increasing level of collagen and new cells in skin, evening of skin colour and firming the complexion. Due to these very substances skin become more elastic, smooth and the number of wrinkles is lowered. What is more, all the discolouration of face are fading. Nevertheless, it is worth remembering that, wrinkles are not going to disappear totally, these can be only shallower by making the skin moisturized and discoloration highlighted.
The Neocollagen series are easily recognizable by their little, blue-coloured jars with the golden cap. The capacity of creams equals 50 ml, whereas, the capacity of the under eye cream equals 15 ml. The light consistency of the creams make the application easy to perform and the absorption to be not disturbed.The cosmetics should be applied accordingly to the producers recommendations, on the clean and dry skin.