Face scrub Peel Me Perfectly from Givenchy is a cosmetic destined for special tasks. This product smooths, highlights and purifies complexion. What does it mean? For example, skin smoothing process is provided by exfoliating flecks. These effectively eliminate dead skin cells and epidermis as well as coarsened, minor scars and their marks. Brown algae extract and glycolic acid accompany working of the exfoliating flecks. Additionally, these evens skin tone, brighten up all pigmentation marks and leave skin fresh and radiant. Another extract, this time from kaolinitic clay, is responsible for cleansing skin pores out of sebum, dirt and deal skin cells.
Givenchy cosmetic, Peel Me Perfectly, should be applied on a moist and cleansed skin face. With the round movements, lasting for approximately two minutes, the cosmetic should be massaged into face. It is advisable to use the face scrub in the evening once or twice times a week. After the application, one can apply a toner or a moisturizing cream.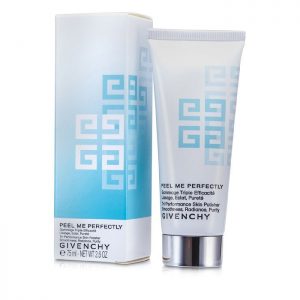 Despite the triple working, which is provided by Peel Me Perfectly from Givenchy, our face skin becomes more tautened, the blood circulation is enhanced and the skin rebuilding process quickened. Applying the face scrub at bedtime, helps with more efficient and faster epidermis regeneration. What is more, the exfoliation of epidermis makes skin ready for care cosmetics absorption.
Peeling Peel Me Perfectly from Givenchy stands on shop's shelves in a white tube of 75 ml capacity. The product itself is of white colour and has got gel-like formula. In the contact with water, it turns into thick foam with exfoliating flecks.
When is the best time to perform face skin exfoliation treatment? Exfoliation of epidermis is a good solution when one wants to apply deeply purifying mask or before application of AHA or BHA acids. Moreover, it is easier to put sunscreen cream or self-tanning cream on the smooth (because exfoliated) skin. Finally, it is suggested to apply face scrub before a big event such as a date, job interview or a party.