Blusher Down Boy from The Balm contains natural ingredients. Among others, these are mica, silica, glycerine derivatives, iron oxide and titanium dioxide. These components provide skin with gentle gleam, matt effect and absorb excess of sebum as well. The blusher is of powdery-like consistency which definitely simplifies the application. What is more, the cosmetic gives a new radiant and fresh appearance, smooths complexion and adds a little bit of elegance to our face. Blusher from Down Boy comprises also of blue pigments which obviously are invisible, and as a consequence, these do not colour face. This kind of shade is ideal for young women with pale complexion, bright eyes and blond hair.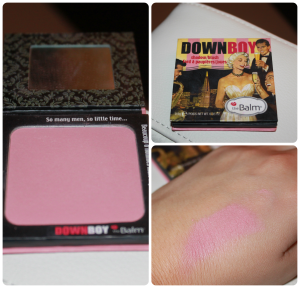 The Balm cosmetic brand is characteristic due to its products distinctive design. Definitely, these look as if produced in 1950s or 1960s. That is why, the box is decorated with the drawings of men wearing tuxedo and women wearing old-fashioned hairstyle. What is more, the cosmetic is put into a small, compact package locked with a magnet. Inside, there is also a small mirror provided. Furthermore, the package carries a witty inscription saying: "So many men, so little time." Well, obviously, not every man can be lucky enough to be amazed with our Down Boy blusher painted cheeks. The single package of the cosmetic contains 9,9 gram of the cosmetic. It may seem insufficient, although, the cosmetic is extremely efficient.
The application of the blusher is just child's play. With the round make up brush you should dab the surface of cheek bones and temples. When it happens, that too much of the blusher gathers on the brush, flick it down. Did you know, that Down Boy blusher from The Balm can be also used as an eye shadow? All you need to do is just to grab a smaller make up brush and apply the cosmetic on the eyelids. It you want to highlight your eyes, paint the inner corner of these as well as under superciliary arches. On the other hand, if you want to stress the the crease of your eyes, apply there the tick layer of the blusher.